Park and Stride
Park and Stride
24 June 2019 (by Genaya Smales (genaya.smales))
It's back! Join us this morning!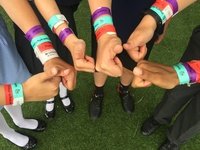 Today sees the return of our amazing Park and Stride for Health Week 2019!
We have our usual 3 pick up points; Mosborough Miners, The Royal Oak and the. British Oak.
The team will be there from 8:15am ready to stride with you and, of course, to give out a different wristband each day.
Collect all five and you'll get a house point for your team!