New Award for Mosborough Primary School
New Award for Mosborough Primary School
7 June 2019 (by Genaya Smales (genaya.smales))
We are officially a Rights Respecting School!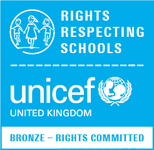 We are delighted to announce that we have been awarded Bronze status for Unicef Rights Respecting Schools.
Unicef works with schools in the UK to create safe and inspiring places to learn, where children are respected, their talents are nurtured and they are able to thrive. The Rights Respecting Schools Award embeds these values in daily school life and gives children the best chance to lead happy, healthy lives and to be responsible, active citizens.
Achieving Bronze means we are demonstrating that we are rights committed. The next step in our journey will be to work towards silver; being rights aware.
A huge well done and thanks to Mrs Napier for co-ordinating this throughout our school!