How Glow Can You Go?
How Glow Can You Go?
19 November 2018 (by Genaya Smales (genaya.smales))
Pop-up shop opens tomorrow!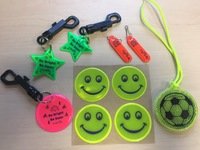 In preparation for Friday's 'How Glow Can You Go' day, our JRSOs are very excited to launch their first ever pop-up glow shop!
Items are on sale tomorrow morning, 8.30am at the main entrance and also in breakfast club too!
The range of reflectors, stickers and zip pulls cost between 50p and £1.
Help our JRSOs to raise awareness for the Be Bright, Be Seen campaign as part of Road Safety Week.