Parent Consultation - Online Booking System
Parent Consultation - Online Booking System
21 September 2018 (by Genaya Smales (genaya.smales))
The online booking system goes live at 10am on Monday 1 October 2018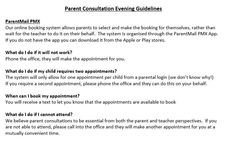 To book your appointment for parent consultation evenings, you will need to have downloaded the ParentMail PMX app.
Details of how you can do so are in the information sheet (image).
If you are unable to use the app to book your appointment, please contact the school office after 10am on Monday 1 October (they will not be able to assist you with parent consultation bookings prior to this as the booking system will not be live).