Christmas Card Project
Christmas Card Project
20 September 2018 (by Genaya Smales (genaya.smales))
Calling all artists!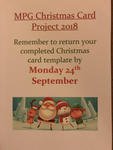 The MPG annual Christmas card project is a great way to help raise funds for our school.
Templates have been sent home - there are spares at the school office if anyone needs one.
We have seen some fabulous design work!
This year, the project has been so popular that MPG have extended the deadline for returning artwork to Monday 24 September so that all of our budding artists have time to complete their designs.
Share this: