Hello from Big Jofli
This week we had a visit from Big Jofli. We were all very excited to see him again and we had lots of fun!
On his visit he gave out certificates and prizes to those children who had created the best 'Fire Safety Books'.
The winners from Willow Class were: Lucas Hobson, Thomas Kay, Evie Kirk, Isabella-Grace Jacques, Samuel Brown and Georgia Snowden.
We had a class picture with Jofli Bear, which we have printed for all children to take home and told him all about how we look after little Jofli.
We also learnt a new song and dance about Jofli as well as busting a move to Jofli's very own 'Gangnam Style' video which you could find on You Tube.
We need to give a special thank you to Louie Allott. Louie did a great job of being apart of Jofli's new story about starting school . Thanks to his efforts a little Jofli Bear has been donated to his new Year 1 class ready for September.
I hope you continue to have lots of fun with him in your new class!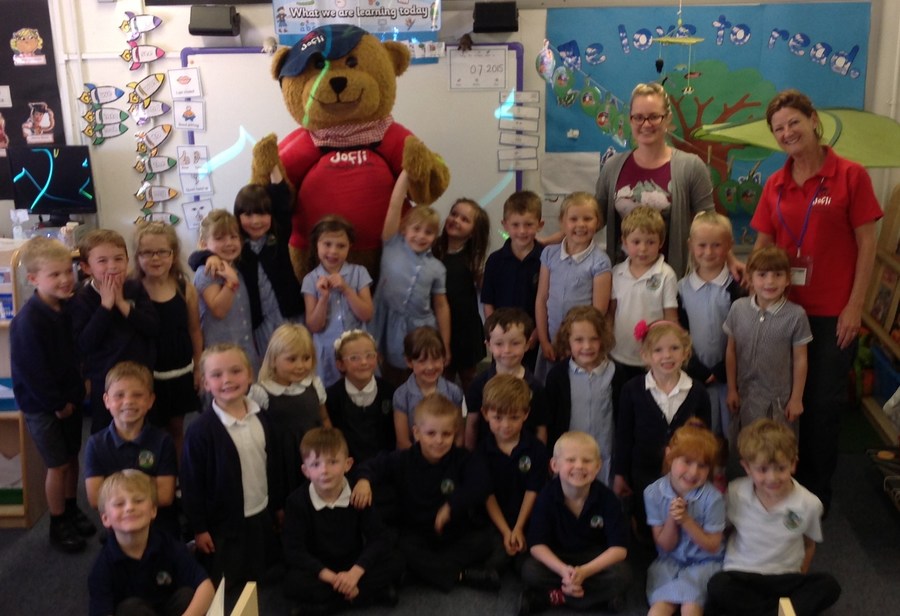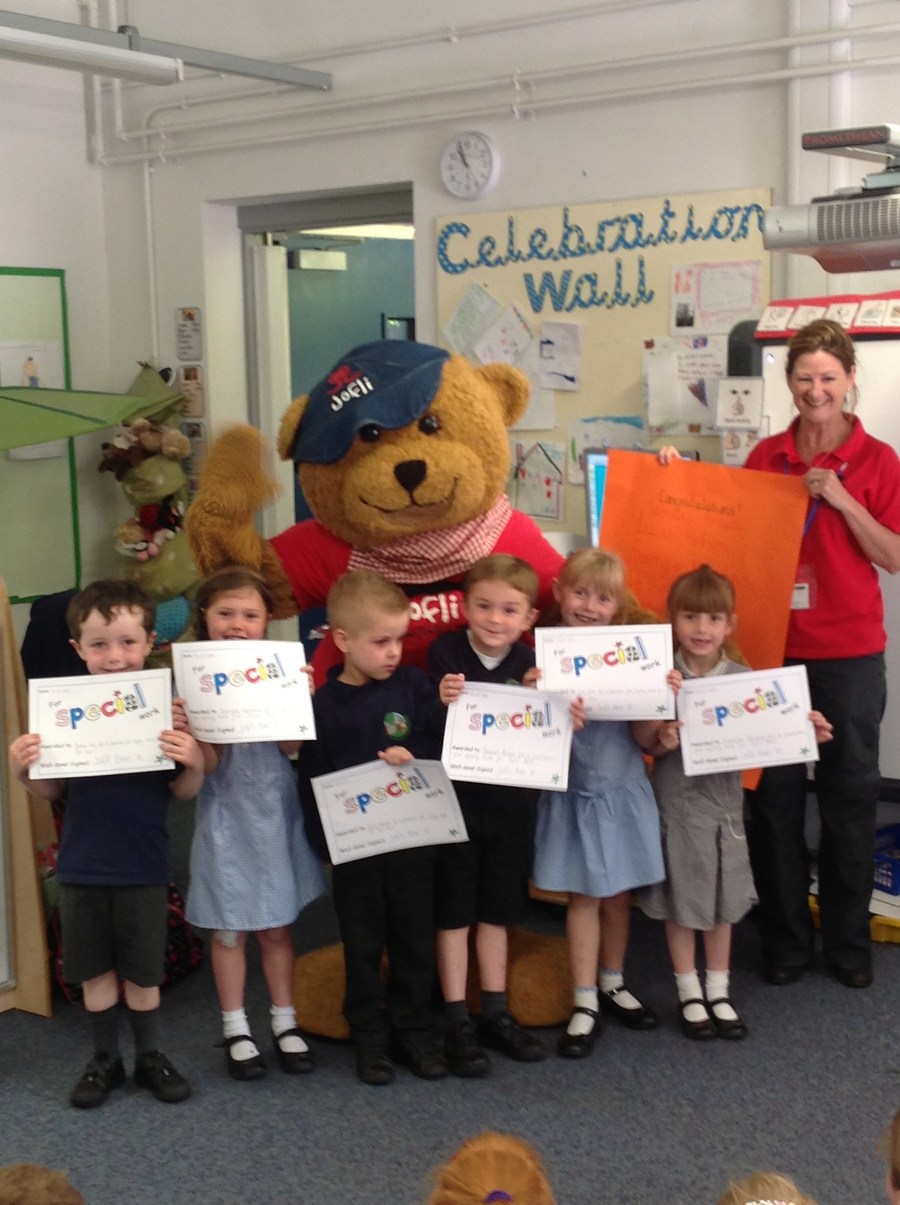 Learning this week
We have been showing off our imagination and our writing skills by making our own superhero from the dough.
Our Trip
We had a wonderful day on our trip to the 'National Emergency Services Museum'.
It was very interesting learning about how the services have changed over time, the variety of professionals that help to keep us safe and the different vehicles that are used and why.
We were able to try on uniforms, play interactive games, sit on a police motorbike and see what it would be like in an old police jail cell.
Throughout the day the children represented Mosborough Primary School really well. They showed care and respect for others and were very safe. We are very proud and had a very exciting day with the children.
POW! Show me HOW to be a hero!
As many of you know there was a crime committed in willow class.
Someone stole the teacher chair! As a class we used the evidence to produce investigation reports and enlisted the support of PC Patrick. Our three suspects were Mr Fallon, Burglar Bill and Pam.
After looking at the evidence PC Taylor and PC Patrick found further clues that pointed straight to Burglar Bill! He became our main suspect and we created wanted posters to try to catch him.
You will all be pleased to know Burglar Bill was caught and sentenced to 10 days in jail. He wrote us a letter to say sorry and baked us some buns. He is now at home with Betty and has promised to never steal again.
We really enjoyed the buns and we have forgiven Bill!
Our Visit from PC Patrick
As well as helping with our investigation PC Patrick came to tell us all about his job and how he helps people. We really enjoyed asking him lots and lots of questions! We also tried on some uniform and went to see his police car. We set of the siren and talked lots about how to be safe.
Health Week
We really enjoyed 'Health Week' and have learnt a lot about how to stay healthy, get fit and be safe.
Before our walk we made our own lunches which was fun. We had lots of healthy foods to choose from.
All of the teachers would like to say a big WELL DONE to all of the Foundation children for completing the walk. We were very proud that we completed it so easily. What a healthy set of children!
Over the week we did lots of exciting things. Here are just a few:
Martial arts wake up and shake up
Construction wake up and shake up
Health diaries
Fire service visit
Road safety visit
'PANTS' Talk about the underwear rule
Whole school walk
Activate sessions
Eating healthy snacks and milk / Trying new fruits
Our topic for summer 2 is 'POW! Show me HOW to be a hero!'. We are learning about everyday heroes as well as those with super powers.
Our current learning is focussing on the Fire Service. We have received a letter from Big Jofli. He wants to come in and see us again BUT has had a scary experience at another school...
We have spent our week exploring fire safety and what to do if our fire alarm goes off. We have made fire safety booklets to post to Big Jofli.
We hope they make him feel safe and that he feels happier about coming in. Fingers crossed we get to see him soon!!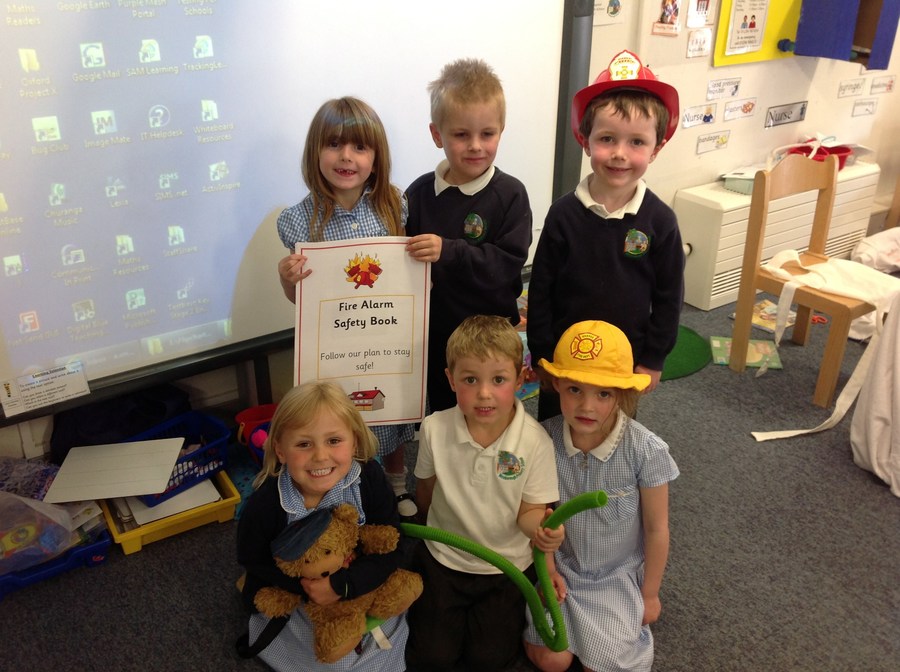 We have also had a visit from the Fire Service. The fire fighter that came to see us answered lots of our questions and gave us some great information about how to keep safe, why we need smoke alarms and what to do if we see a fire.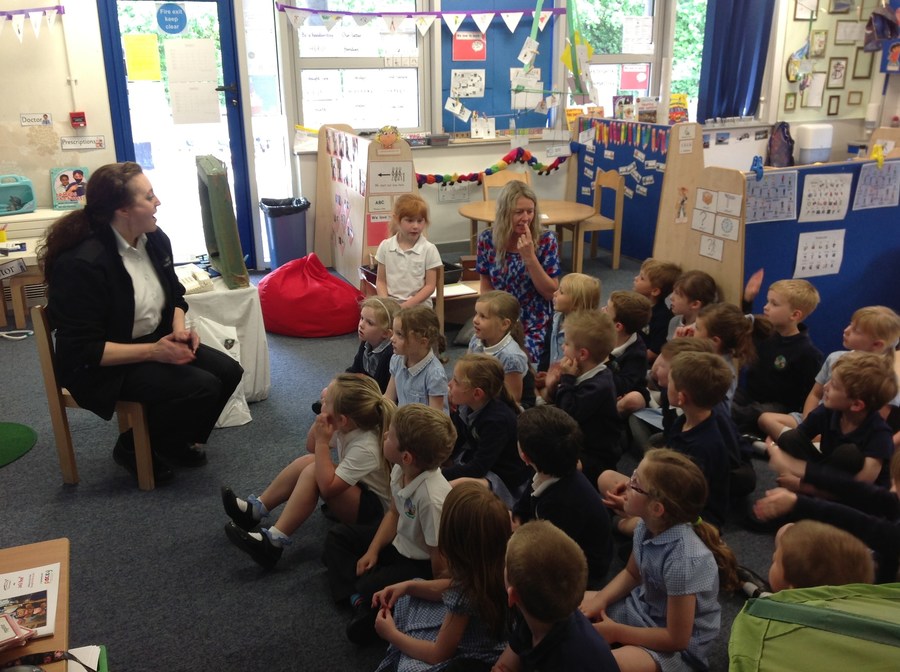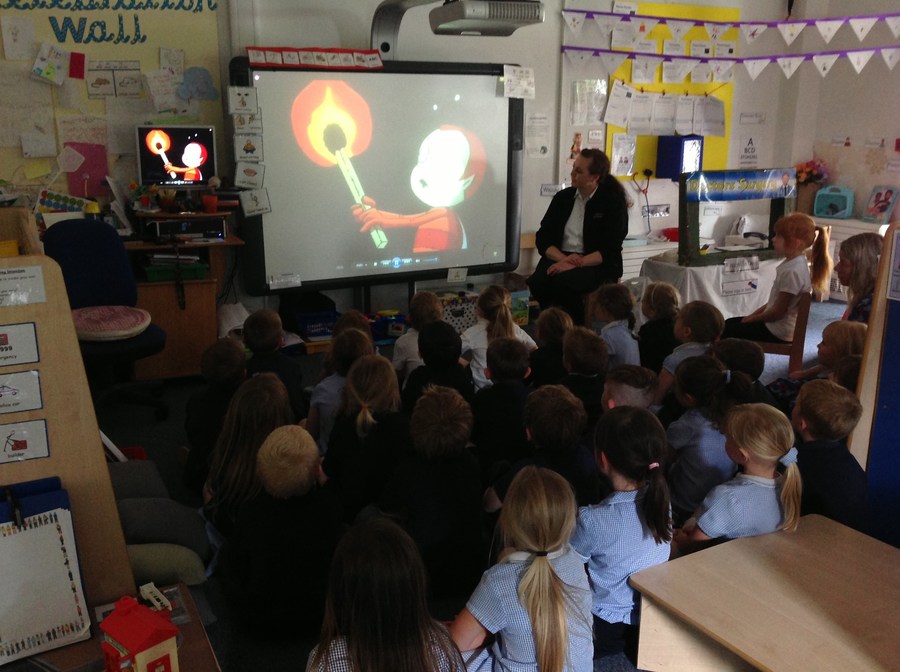 With the help of Ava we were able to learn about when to STOP, DROP & ROLL.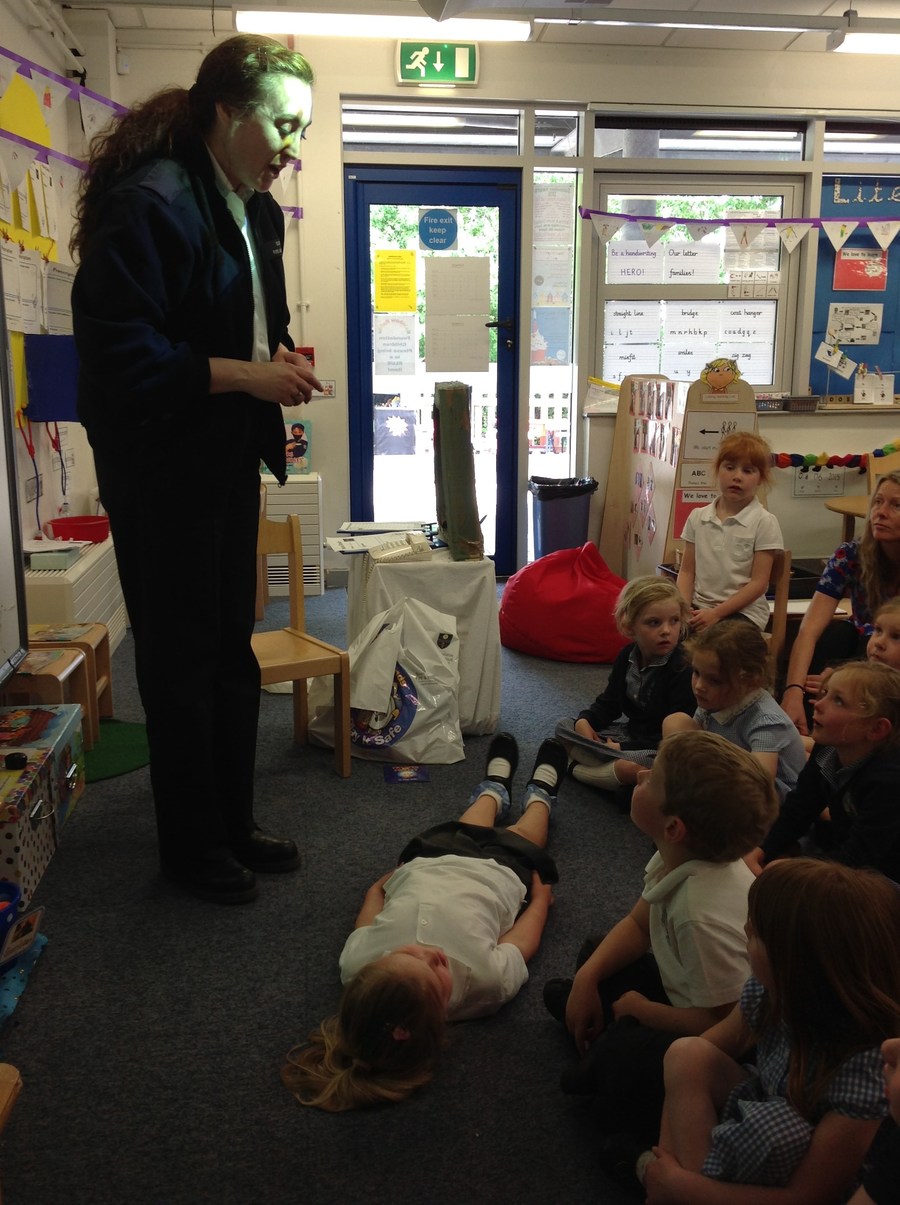 We have been doing some great learning in both Literacy and Maths!
Here is one of our books:
"Fireman Sam climbed up the ladder to save the cat."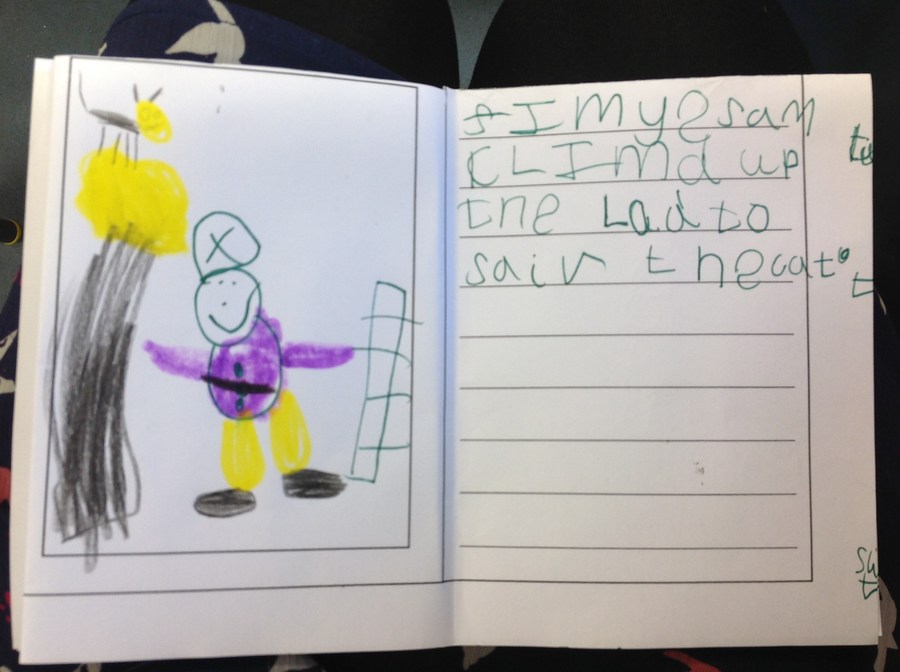 Here is our super Maths learning: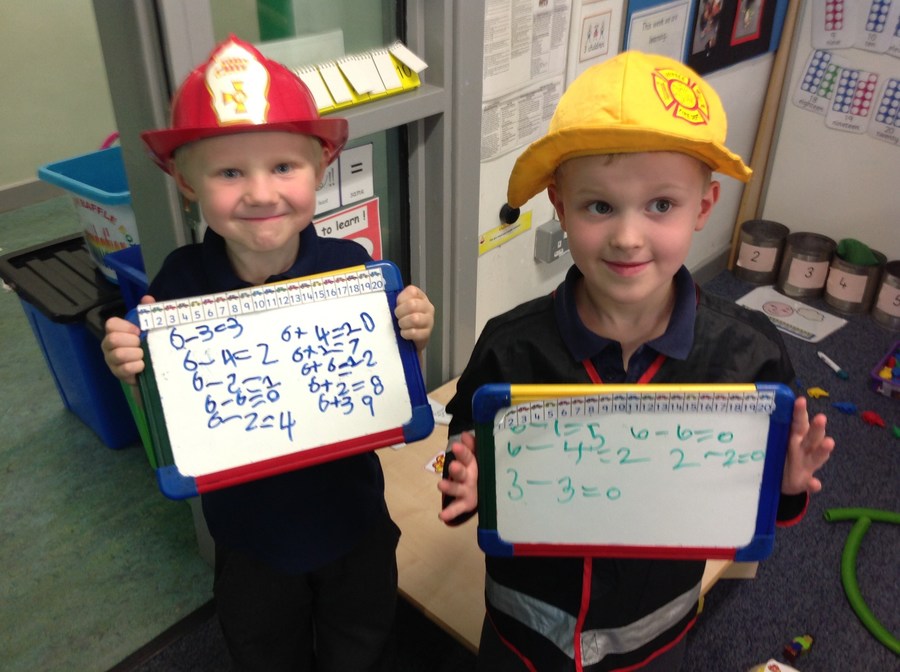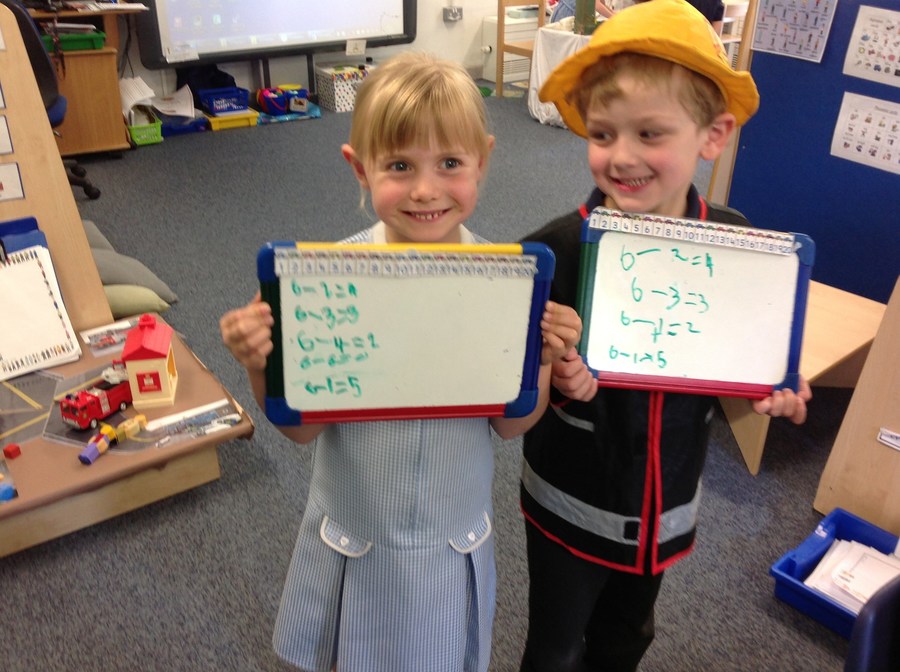 Willow
Summer 1 - May 2015
We had a great time at our 'WHO AND WHERE ARE THE WILD THINGS?' showcase!
Thank you for all of your support. It was great to see so many parents and carers come along to celebrate the fantastic work we have done this half term.
Here are some of the great photographs from the event. Parents and carers joined in with mask making, biscuit decorating, crown making and reading our topical stories. We hope you enjoyed looking at your child's literacy books and seeing just how much progress they are making!