We Are Beech!
What is my child going to learn about this term?
We have sent home a copy of the learning we have planned for your child this term. On this sheet you should find an explanation of what will be covered for each area of the national curriculum. You will also find aspects we describe as 'memorable experiences'. These are the elements that will bring the learning to life for the children. You will also see an 'end product' section. Here we describe what the children are working towards; this could be a display, performance or a piece of writing. We believe this helps to give the children a focus or reason for learning the information. You will also find references made to 'drip and block'. Drip refers to things that happen all the time, such as spellings, for example. Block refers to things that do not fall naturally into the theme and as such are taught as discreet, unrelated units.
We hope that this information, coupled with the class newsletters and the planners will give you a deeper understanding of the year your child is going to have in school. It might also give you some ideas for how you can best support them.
Celebrating the end of Health Week!
From week commencing 27th of June, the children did a variety of activities to keep fit and understand what it means to be happy and healthy! The children were able to take part in scooter skills, skipping, Ti Chi, karate, Dragon dance and much more. As well as this, we explored the importance of friendships and hygiene.
To end the fun and active week, the children took part in a parade around school. This parade was held to celebrate the end of healthy week and to introduce the Olympics in Rio which will shortly be happening this summer!
Year One Beech were in charge of presenting USA and Hockey. We made flags, banners and headwear and each learned a fun fact about the country and the sport.
Thank you to the parents who came to watch our presentation of the information within the classroom! You were such a supportive audience!
Let's get planting!
To begin our summer 1 topic of 'Plants', all the children in Year 1 Beech planted their own Sweet pea seed!
We also discussed how to look after it over the next 8 weeks.
Have a look at us planting our very own sweet pea seed!
Animal masks!
To complete our exciting topic of 'Farms and Animals', Year 1 Beech designed and made their own farm animal mask.
We put thought into the animal we wanted to create and then designed what it would look like and the colours and detail it would include on it. We also considered the user of the mask and the purpose of a mask.
After weeks of paper macheing our balloons and allowing to dry, children added paint and final touches to their masks and created wonderful products at the end of it.
Take a look at the pigs, horses, sheep, sheep dogs, chickens and cows we created!
Cannon Hall Farm!
To immerse the children into their new topic of 'Farms and animals', both Year 1 classes went on a day out to Cannon Hall Farm.
We had lots of fun on our interesting guided tour, then stroking and feeding some of the animals, to watching a cow being milked, to watching ferrets race and also riding on a tractor ride! We were worn out by the end of it.
Big thank you to all the parent volunteers who came along with us!
Take a look at some of the activities we got up too!
Sports relief!
On the 17th of March, all the children of Mosborough Primary school took part in the sports relief mile!
Year 1 Beech came prepared with a water bottle and their best sports gear on.
The class ALL completed the mile, either by walking, jogging, running or a bit of all three!
Here we are having a well deserved rest after the event, with a sticker on to show our achievement.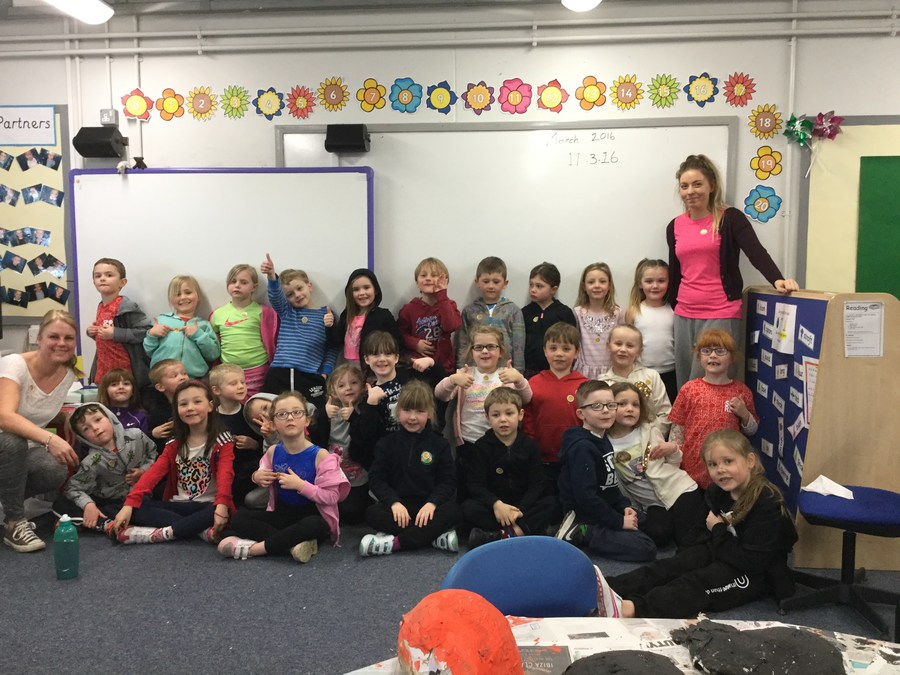 World Book Day!
On the 3rd of March, Year 1 Beech dressed up as their favourite characters from their story books for World Book Day!
We had an exciting day celebrating authors and their wonderful books and were also read to by Miss Mossman from year 5.
Here we are in our costumes.
Can you find Harry Potter? Have you noticed the Cat in the Hat? Can you see the Queen of Hearts?