Welcome Back!
Welcome Back!
15 April 2018 (by Genaya Smales (genaya.smales))
Summer term starts tomorrow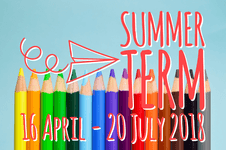 We are all looking forwards to welcoming everyone back to school tomorrow morning for the start of the summer term. We know the weather may not currently reflect summer, but we promise we've got sunshine on order! Clubs, activities, swimming and music lessons all resume as usual. See you in the morning!