We Are Elder!
What is my child going to learn about this term?
We have sent home a copy of the learning we have planned for your child this term. On this sheet you should find an explanation of what will be covered for each area of the national curriculum. You will also find aspects we describe as 'memorable experiences'. These are the elements that will bring the learning to life for the children. You will also see an 'end product' section. Here we describe what the children are working towards; this could be a display, performance or a piece of writing. We believe this helps to give the children a focus or reason for learning the information. You will also find references made to 'drip and block'. Drip refers to things that happen all the time, such as spellings, for example. Block refers to things that do not fall naturally into the theme and as such are taught as discreet, unrelated units.
We hope that this information, coupled with the class newsletters and the planners will give you a deeper understanding of the year your child is going to have in school. It might also give you some ideas for how you can best support them.
New Corridor Display
Over the past couple of weeks the children in year 4 have been working extremely hard on their habitats topic and we are proud to showcase some of our work on our new corridor display.
The children have shown skills in stickability and curiosity as they researched their individual animal and habitat. They have given great motivation and perseverance to write their non-fiction text. The children have also developed their observational drawing and painting skills, as well as demonstrating creativity in their art work of their chosen animal.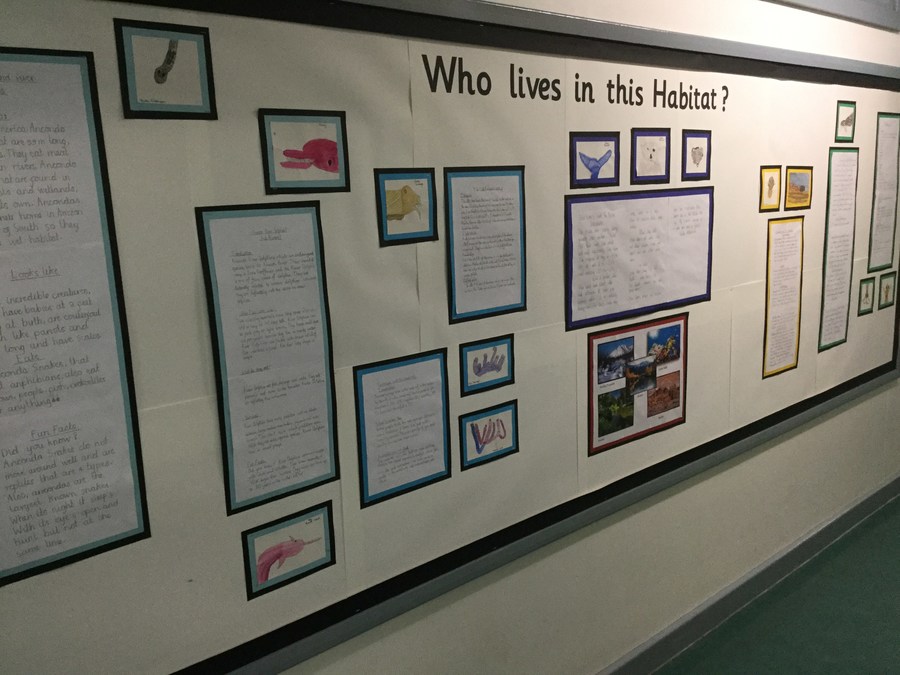 Ball Skills
This half term in P.E. the children have been developing various SKILLS for football and other team games.
Safe
Kind
Ideas
Listen
Learn
Rivers Field Trip
This half term Year 4 Elder have been Geographers! We have ended our topic by exploring the world of rivers in the Peak District National Park. We made observations about streams in the environment, identified key features of rivers, understood how to draw and label a field sketch and used scientific equipment to gather data in the field. A fantastic day was had by all.