Willow class
With Miss Plant and Mrs Needham.
Below is the overview for the learning in the Summer 2 term.
Releasing our butterflies
To begin Summer 2, we had a very important job to do. Release our butterflies! We have watched them turn from caterpillar to cocoon and finally to a beautiful butterfly!
We took the butterflies outside to release them into the outside world. Some of them flew and landed on us!
It was a special moment to witness them fluttering away into the distance.
Health week!
From Monday 18th June until Friday 22nd June, all of Mosborough Primary school took part in 'Health week'.
During this time we did 'Wake up, shake up' every morning, took part in smoothie making, designed and made our own coleslaw and walked to Ridgeway for a picnic!
Below you can see all of the exciting things we took part in. It was an amazing week with a lot of valuable discussions and activities!
FS Willow: Health week activities
Our trip to the Yorkshire Wildlife Park
On Tuesday 26th June, the Foundation stage classes went on a trip to the Yorkshire Wildlife park!
We saw lots of Wild animals from our stories like 'Handa's surprise' and 'The Lion who wanted to love'.
The children watched animals being fed and observed their behaviour. It was a brilliant day with lots of amazing things to see!
Take a look at us exploring the park.
Willow class
With Miss Plant and Mrs Needham.
Below is the overview for the learning in the Summer 1 term.
World Book Day (at last!)
Today Mosborough finally had the chance to celebrate 'World Book Day'! Willow class came dressed as their favourite book characters.
We had a great day reading 'A child of books' and making our own stories on our 'story ocean'.
Willow class: Mosborough's World Book Day
Eggs have arrived!
Today we had our egg delivery. Not only this, we also were able to meet Wilma the hen and Martha the chicken.
We observed and some of us fed them too!
We cannot wait for our eggs to turn into little chicks.
Growing cress heads!
This term we have planted spinach, radishes and carrots ready for 'Health week' next term.
We also had an individual responsibility: grow and look after our own cress!
We planted cress seeds into a pot with our faces on. We were looking up at our green, long hair!
Take a look at the cress we grew and when we finally got to enjoy it with crackers and cheese spread (some children thought it was delicious, others preferred it without the cress!)
Willow: Cress heads
Our time with the Chicks
We have had the pleasure of looking after 7 chicks this term! We kept them warm in our incubator and then comforted them as chicks.
We named them: Willow, Fluffy, Ginger, Charlie, Sleepy, Cookie and Coco.
The children have loved tweeting to them and handling them.
Take a look at us holding them carefully!
Willow: Our little, fluffy friends!
Willow Class
With Miss Plant and Mrs Needham.
Below is the overview for the learning in the Spring 2 term.
Missing mail hunt!
With our new topic starting, "People who help us", we began reading 'The Jolly Postman and other people's letters' book. We then received a letter from the Jolly Postman himself! It said that during his post duties that morning, a huge gust of wind knocked all the mail from his hands! He had kindly sent us a map of his post walk and the direction of the wind.
The children and I got our coats, maps, iPad and post bag to collect all the missing mail. We searched hard and found the mail in trees, bushes, fences, drain pipes and even a basketball net! The children made a great detective team and helped find every piece of missing mail.
Take a look at us on the missing mail hunt!
MISSING MAIL HUNT!
People who Help us
During the Spring 2 term, the Foundation children had visits from many parents/family members who have very important jobs.
We thought of questions prior to their visit and then sat and listened to each one carefully.
We learned from:
*A youth worker
*A dental nurse
*An adult nurse
*A firefighter
*A poo nurse
*A child nurse
*An ambulance technician
*An electrician
*A caretaker
Have a look at our wonderful, inspiring visitors below.
FS 'People who help us' visitors
Sports Relief week!
Willow class completed as many steps as we could to help raise money for Sports Relief!
We did a different 'Wake up, Shake up!' every morning and completed the week by doing 1 mile (run/ jog/ walk).
Look at our fantastic effort!
FS Sports Relief week!
Superhero ceremony!
After spending the term learning about fictional and factual superheroes, we celebrated by having our very own superhero ceremony!
We designed and made capes for our home learning task and then presented some awards to the children who received the most nominations from their peers. Some reasons given for the awards were being kind, honest, helpful, friendly.
Take a look at our wonderful celebration!
FS Superhero ceremony!
Willow Class
With Miss Plant and Mrs Needham.
Below is the overview for the learning in the Spring 1 term.
Alien Visitor
When we returned from the Christmas holidays, we found some mysterious items in our big yard! There was green slime, green footprints, scraps of metal and a golden egg! We predicted what it could be and then discovered it was Yazz who had got lost from Mars! His video messages told us how he had landed here and was unfamiliar with planet Earth.
Take a look at our experiences with him!
To begin Science week, the children of Foundation were able to make a Bug Hotel with our STEM volunteers! They had to search for sticks, rocks, branches, leaves and create rooms for the bugs to live in. We made various levels to our hotel and built it in the corner where it could attract more room mates.
Take a look at the effort that went into our Bug Hotel!
F2's Bug Hotel
Investigation underway!
With the new addition of our Bug Hotel, the children of Willow class went exploring to investigate which bugs they could find around the school grounds. They took their iPad's to capture images of them.
See which mini beasts you can see!
F2's Science Week Bug Hunt!
Pancake party!
To end our term of aliens and space, we had a pancake party to celebrate Pancake day and be like Wanda in the story 'Wanda's Space party'. The children took responsibility of designing and making a pancake for their learning partner. They had to find out which toppings they wanted from the 'all the time' toppings (like fruits and yogurts) and from the 'sometimes' toppings (like chocolate and sweet products). Each child then created a design using the selected ingredients to make a space themed pancake e.g. rocket, planet, alien, face, moon rocks etc.
Take a look at their impressive pancakes!
Willow class
With Miss Plant and Mrs Needham.
Below is the overview for the learning this Autumn 2 term.
We're going on a bear hunt!
When returning from the half term holiday, the children in Willow class discovered a muddy footprint in the classroom! There was a trail of porridge too. They decided a hunt must be done around the school!
They found scratches on the trees, cracks in the floor, holes in the mud, broken sticks and fallen trees, and finally a pile of poo! After checking the school cameras, it was learned that a bear was hanging around the school.
Take a look at the evidence for yourselves!
Using Positional Language
In our Maths sessions, we have been focusing on positional language. We gathered in a circle for one of our activities and the children were instructed to place a variety of objects in different places.
They listened for words such as on, above, behind, in front, next to, under etc. Everyone could correctly place the bear or a building block into the correct, directed place!
Take a look at us in action!
Raising money for Children in Need!
Making Gingerbread men
Following our Traditional Tale topic, we have explored the story of 'The Gingerbread man'. We retold the story and then followed a recipe to make our own Gingerbread men! The children worked hard by following the recipe in the correct order.
Take a look at our wonderful baking!
A special visit to the Space Dome
The Foundation children were given a special opportunity to visit the Space Dome!
We sneaked inside to see and learn a little bit about our planet, the other planets and stars. The children were so amazed by what they saw!
Our Christmas Nativity
The children of Willow and Cherry class put on a fantastic performance of 'A King is born'. The children were praised for using such loud, clear voices when speaking, beautiful voices for singing and lovely actions for the dancing.
Well done to each and every one of you! You made us so proud!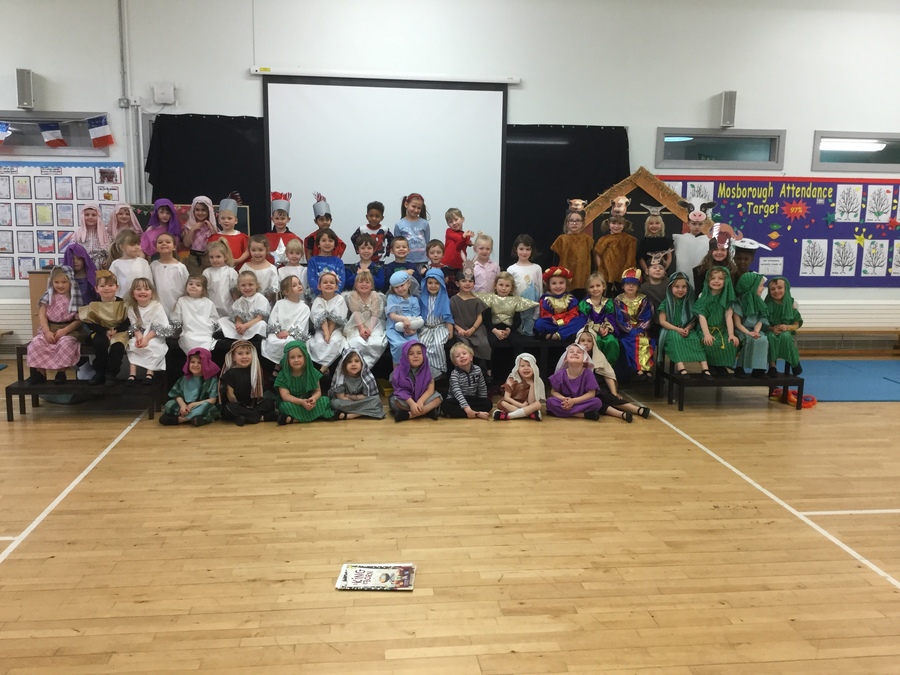 A trip to St Marks church
After performing our Nativity story, we visited St Marks church to learn some more information about Christian beliefs and how they celebrate around the Christmas period.
We were able to make and observe Christingles, listen to the Nativity story with each important character and enjoy the beautifully decorated Christmas trees which were surrounding the church. We even retold the story with costumes too!
Willow
With Miss Plant and Mrs Needham.
Below is the overview for the learning this Autumn term.
Welcome to Willow class!
Here is our Class Charter that we all agreed and sorted together. We then printed our hand prints around it to agree we would all make good choices in the classroom. We have made a great start to Willow class.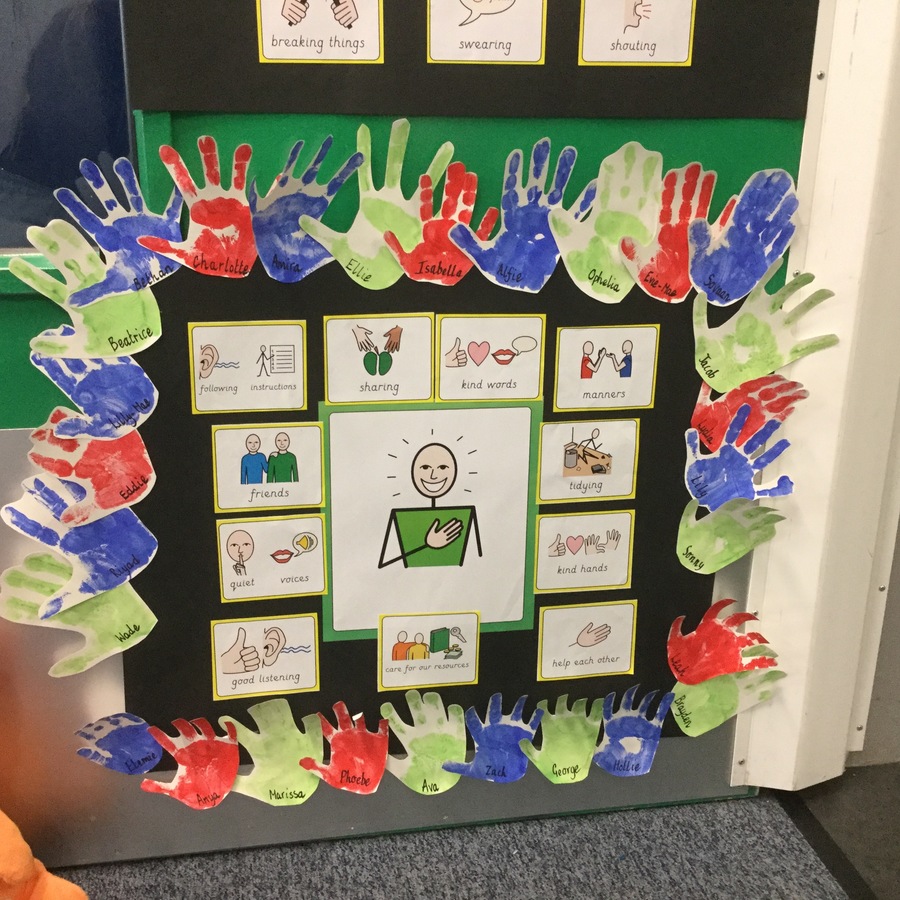 Our class rewards!
In Willow class, we will be using Dojo points as a way of rewarding positive behaviour within the classroom. We will give points away if children have shown independence, stick ability, curiosity, creativity or respect. These will be frequently referred to within our learning environment and parents can track their child's amount on the Dojo App!
At the end of each half term, the children who have received the most Dojo's will receive a certificate and a prize to show off their consistent positive behaviour. Good luck children!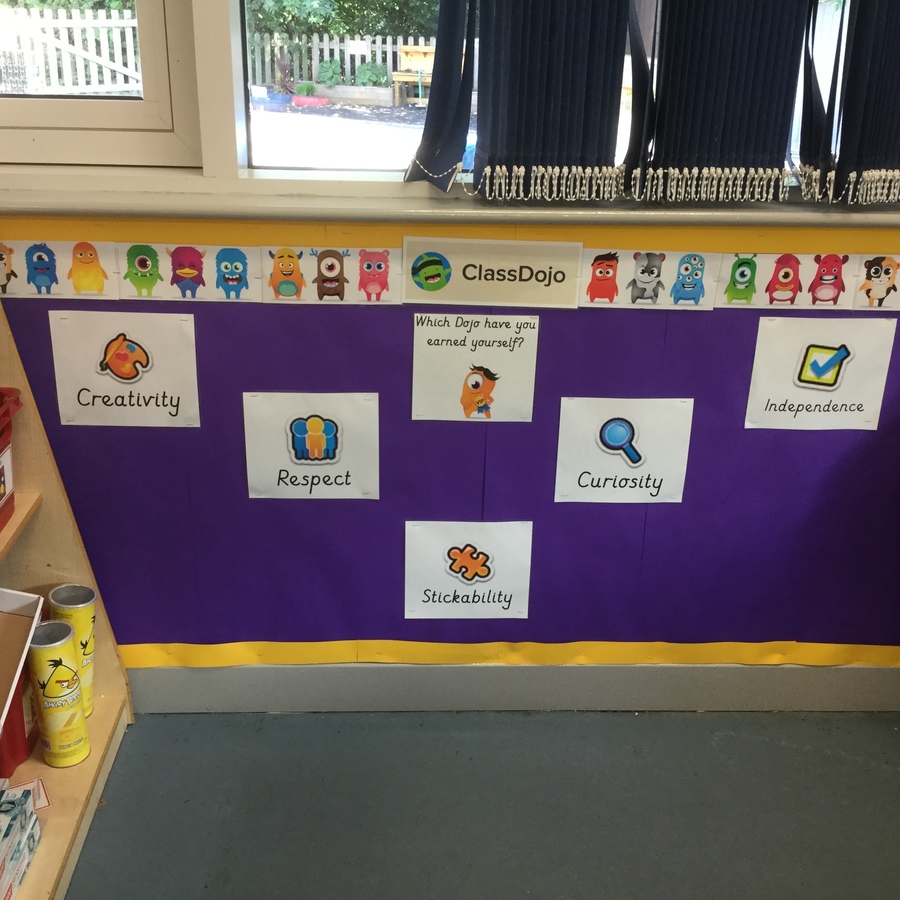 Our first home learning task!
For our very first home learning task, the children were asked to create their own treasure box to store 5 of their important items in. It was great to see the effort and time put in to decorate and fill their boxes so meaningfully. Take a look at their hard work below.
Our first week of school!
During our first week of school, the children went on a tour around the whole building whilst listening out for different sounds with their listening ears. We could hear talking, banging, music, tapping, ringing and lots more noises! Check out our wonderful head wear.
Our Dinosaur Hunt!
Willow class received a map showing us where some dinosaur bones and eggs were hidden. After planning ahead for our dinosaur hunt, we went exploring the school grounds to find them. We had to look under things, over things, next to things and in things. We successfully found the eggs and the bones and brought them back to the classroom for further investigating.
Take a look at the adventure we went on!
Harvest market
For the Harvest market, Willow class made and sold Volcano Hot-Chocolate cones and Fossil Fancy biscuits. These ideas linked with our dinosaur topic. They did a fantastic job and sold every last one!
Take a look at all the hard work which went into them below.
Dinosaur celebration
To end our wonderful Dinosaur topic, we invited parents in to watch our Dinosaur counting song and dance and lots, lots more! We showed off our super writing tasks in our books and got creative making dinosaur biscuits, skeletons and hats.
Take a look at the fun we got up to below!