Meet the reps... Alfie and Isabelle are our Pupil Parliament representatives and Samuel is our Eco Committee representative. Good luck in your roles!
Our class rewards
Class Dojo - we will be using C lass Dojo as a daily, individual reward. Children can earn dojo points for demonstrating our learning behaviours: respect, curiosity, stickability, independence and creativity.

We will have a weekly Dojo winner on a Friday - whoever has received the most Dojo points during the week will earn a prize.

Table points - we will also be able to earn rewards as a table. Children will receive table points when they are ready and organised for learning and when the whole table impresses me with their cooperation. The winning table will receive a prize and the table trophy each Friday.

Marbles - Y3 Banyan must do something brilliant as a class to earn a marble in the jar. When/if the jar is filled, the class will have a treat!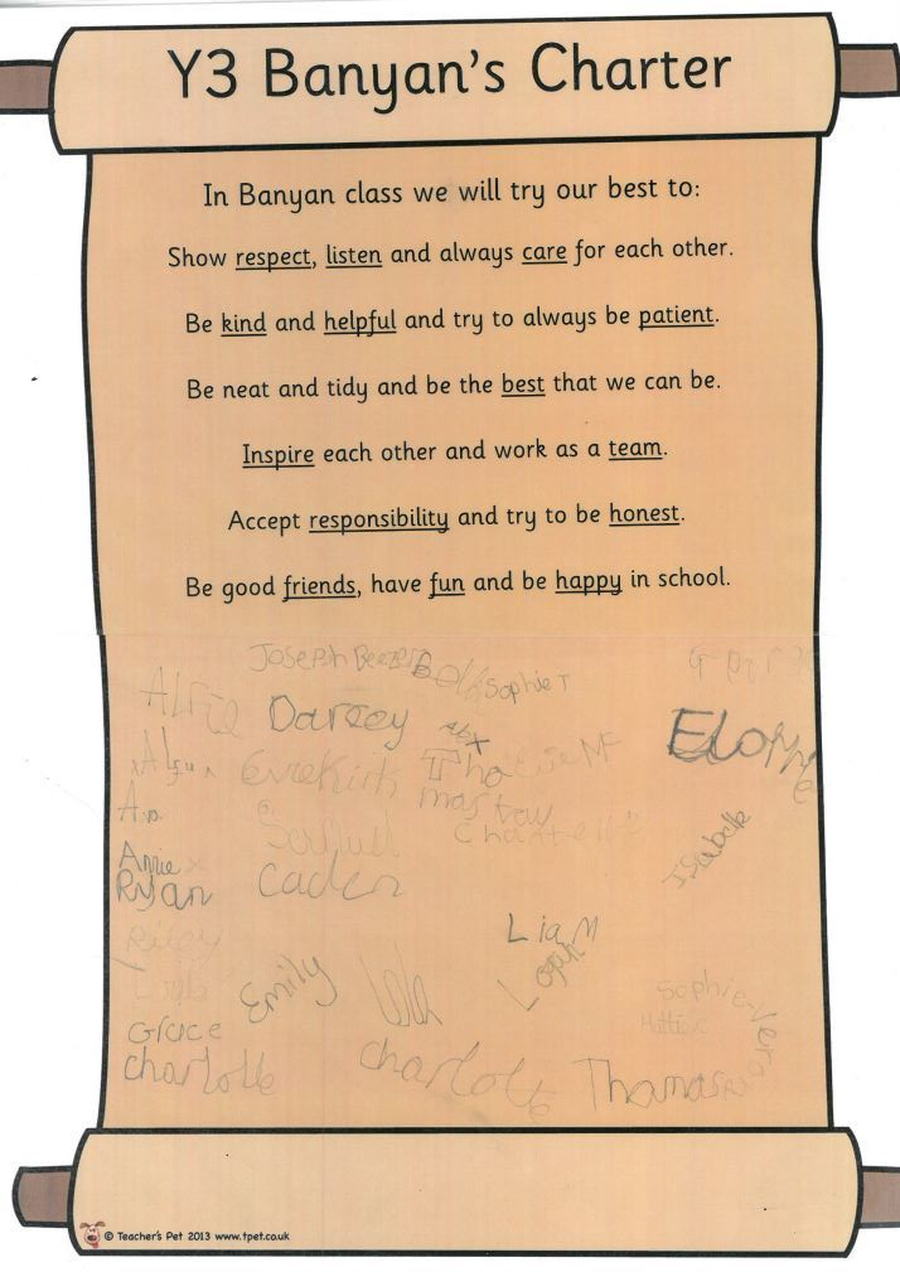 Super Scientists!
Here are some of our muscle tutorials. We made them using the Book Creator App on the Ipads to demonstrate how muscles work in pairs.
We are musicians!! Watch our recorder performance of 'The Happy Lion' here...
World Book Day 2018
We had a fantastic day on World Book Day in Banyan. Have a look at our amazing outfits... you might be able to spot the Queen of Hearts, some Hogwarts' students, an Alice or four, some Matilda's and even a couple of Gangsta Granny's! We used 'A Child of Books' by Oliver Jeffers to inspire us to collaborate on some amazing artwork. We created our very own world of books using some of the powder paint skills we have learnt this year and some of our favourite stories. We worked so well as a class and we are really proud of the finished piece!
Banyan World Book Day
We'll Meet Again!
We really enjoy putting together and rehearsing for this production and we hope you enjoyed one of our brilliant performances. Here we are in our costumes - thank you to all of our parents for helping us to look so fantastic!
We'll Meet Again - Banyan
Banyan Sport Relief Mile
Science Week!
We had lots of fun during Science week, exploring magnets and forces. We carried out some experiments to find out about friction and we created our own magnetic fun fair games to demonstrate what we learnt about magnets. Come and look at our writing all about magnets - some are displayed in the corridor. We also had a visit from some STEM ambassadors who helped up to create aerodynamic rockets. We enjoyed launching them outside.. one even got stuck in a tree!
Y3 Banyan 'doing our thing' for Children in Need!
Here are a selection of photographs from our action packed fundraiser day for Children in Need. Spot us having a penalty shoot out, a basketball game, doing some Pudsey maths, completing a construction challenge in Foundation, a paper chain challenge in Y4 and having lots of fun!
Extreme Earth!
We have produced some very creative pieces of homework to show our understanding of the layers of the Earth. We were all really impressed and enjoyed sharing how we created them with the rest of the class!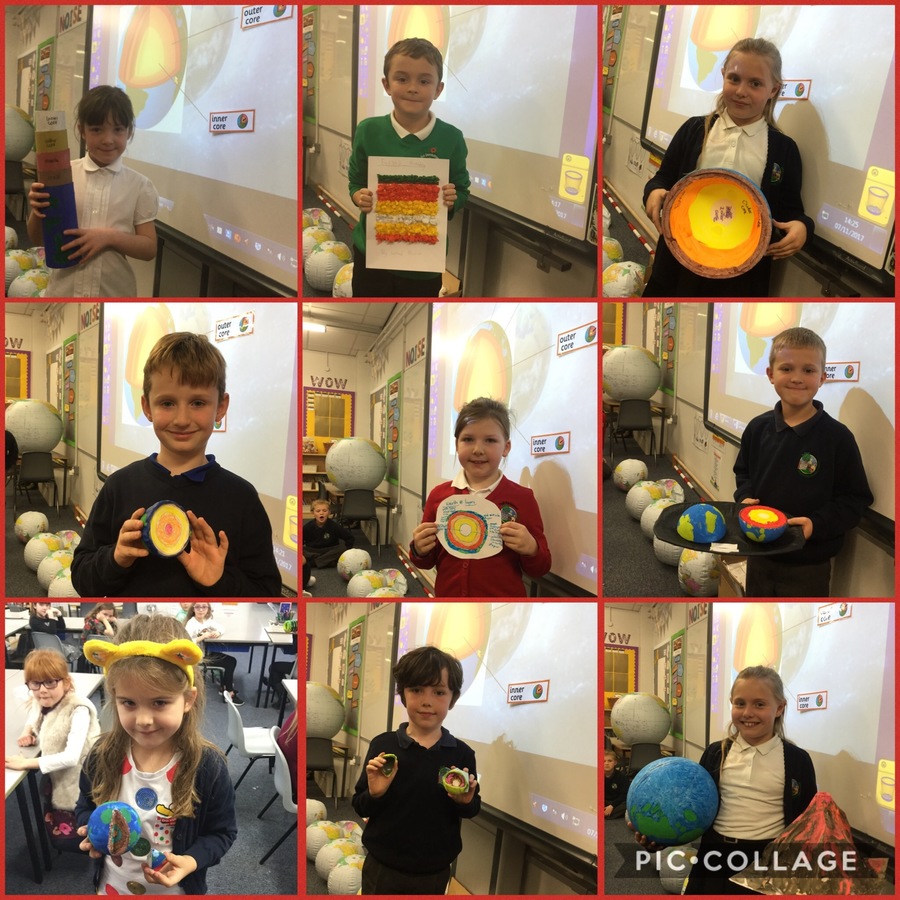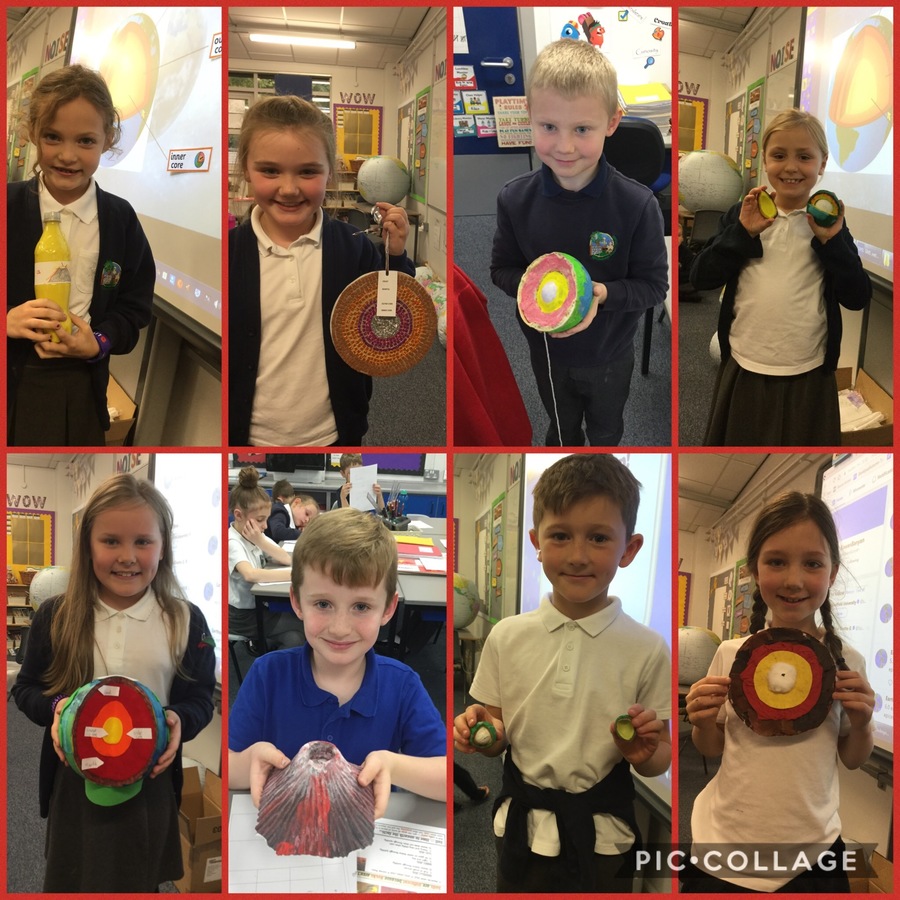 Building Stonehenge - IMoves Dance
In our dance lessons, we practised working in small groups and creating moves in cannon. We had to count the beat in blocks of 8 and remember to start on the first beat of the block. We created moves using different levels and put all of our ideas together to tell the story of Stonehenge. Each dance lesson started with a boys vs girls dance off. The final score of the half term was 4-3 to the boys! Here is a trailer for our movie and the finished dance itself. Enjoy!
Y3 - Back in time Jewellery!
We had a very busy week creating our Stone Age jewellery and creating our own company. We had a few ups and downs throughout the week when our salt dough beads didn't turn out as we had planned. With some quick thinking, we changed our plan and made clay beads instead. They were finished just in time for the opening of the Farmers' Market and Y3 did a fantastic job of selling the product. As a school, we raised a staggering £1085.74 for charity.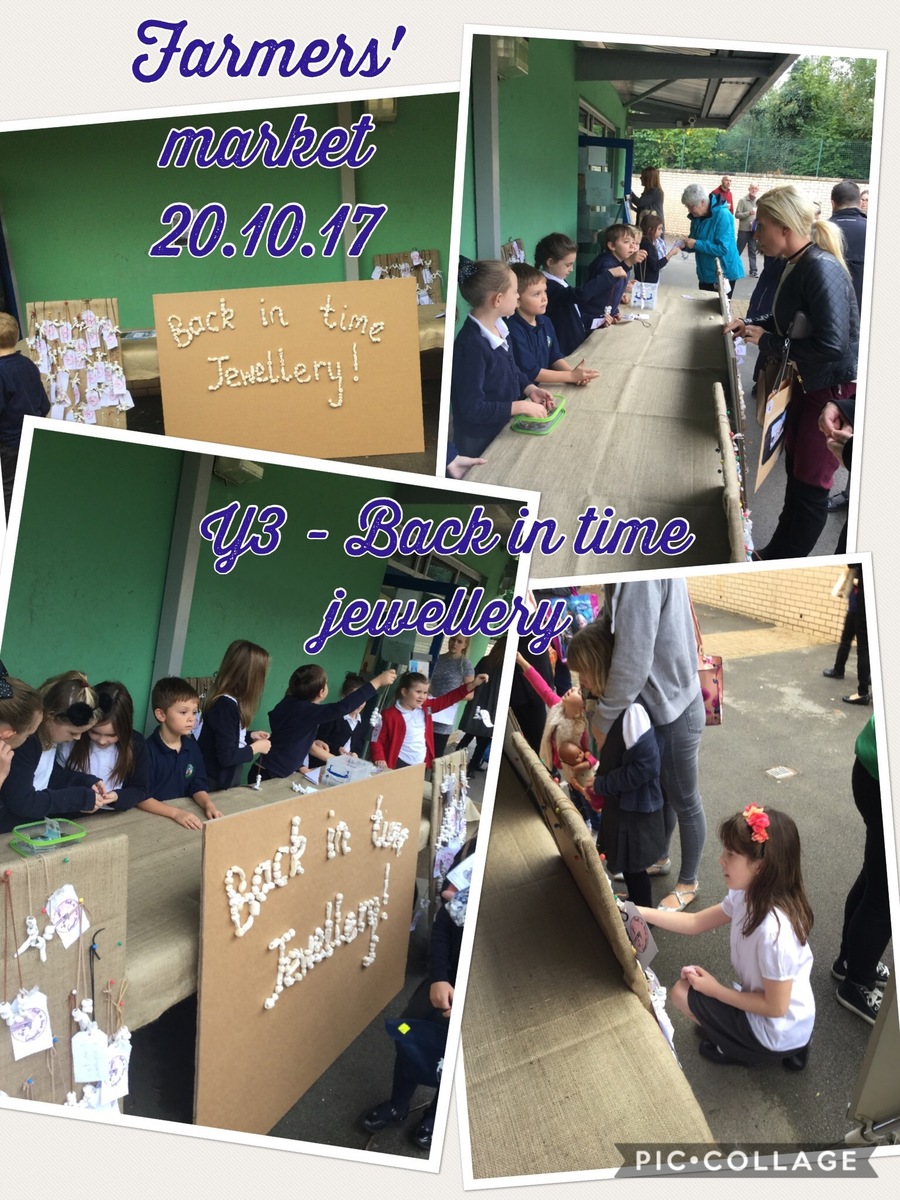 Stone Age estate agents!
In English, we were tasked with becoming Stone Age estate agents and selling our most expensive cave. We had to work collaboratively to describe the cave and what benefits it could offer any potential buyers. We tried to use expanded noun phrases and conjunctions to make our descriptions really super. Here is an example of some of our finest estate agents, Hattie, Emily and Georgia, at work.
Flag Fen
Our trip to Flag Fen Archaeological site was fantastic! We tried our hand at field and experimental archaeology while finding out more about the Stone Age, Bronze Age and Iron Age. It was amazing to see part of the 1km long causeway that has been excavated and some of the prehistoric log boats that are currently being preserved. Have a look at some of the photos from our exciting day.
Super Stone Age Homework
We are really proud of our homework projects...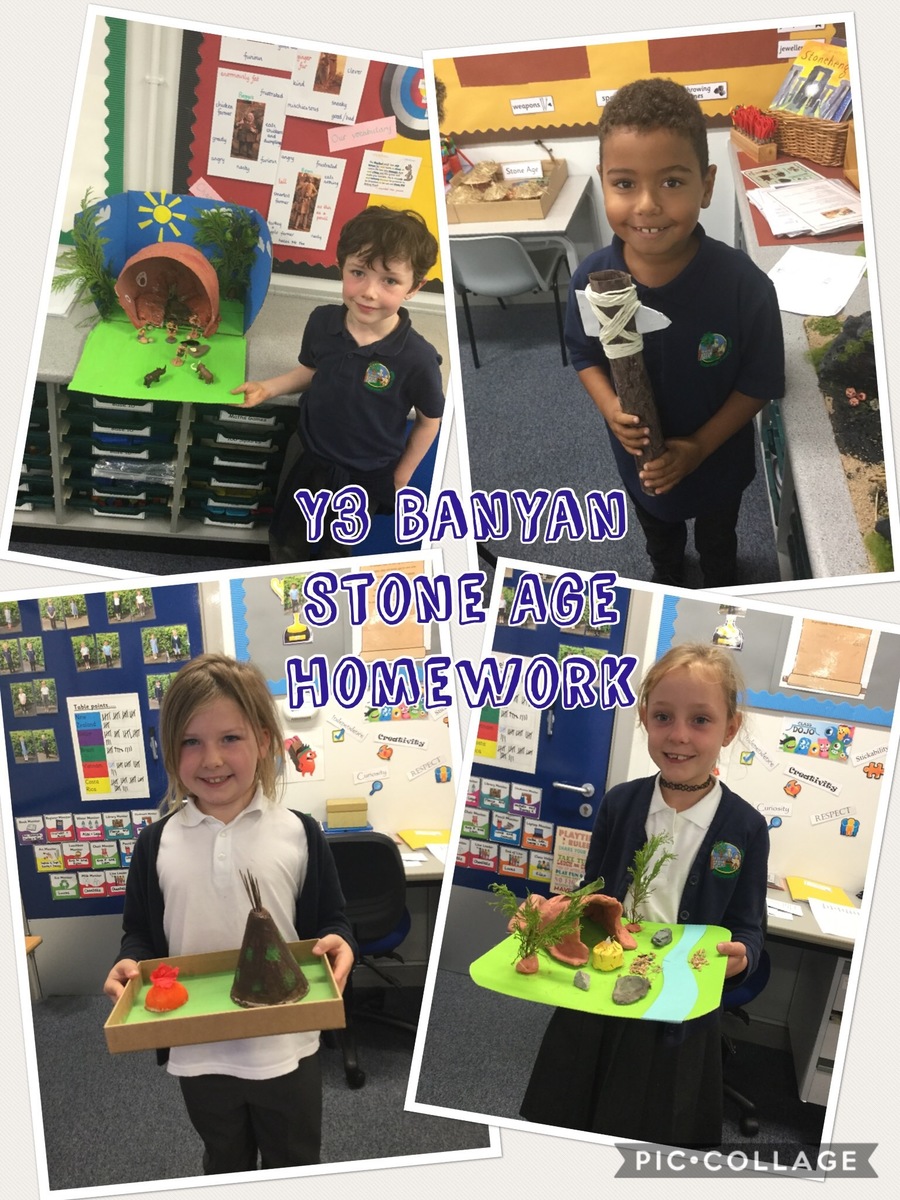 Have a look at what we will be learning in Summer 1!